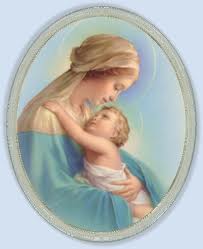 Happy Mother's Day Weekend to our Heavenly Mother!
Mother Mary, we love you and we thank you for bringing Jesus into the world for us.
Thank you for saying yes to God.
Help us to say yes to God also.
We pray straight to God through Jesus, but we also know you love us with the love of your Son, and like any mother, will love and pray for your children also.
Help us to welcome Jesus into our hearts, and by His death and resurrection, we too will live forever in Heaven.